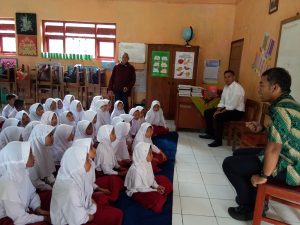 IOA education programs focus on improving the quality of elementary school teachers/principals by conducting training, seminars, expert sharing,  learning community building, etc. After we hold the training programs, we then observe and evaluate the progress of each school principal and teacher in our target schools. The response to this program is extraordinary. We can see actual improvement  especially in their positive attitudes. Our teachers become more enthusiastic and dedicated, too. We treat all teachers and principals as partners, not as objects. We are equal. We really appreciate and encourage all their input and feedback. We involve everyone in the school to participate in the whole program so that the results are better and faster.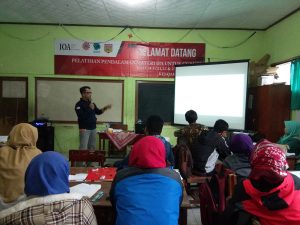 We have conducted some of the following projects :
2009 – 2011 :  Duri Pulo Project, Jakarta. A  series of Transformational Leadership training for approximately 200 teachers and principals in our target schools :  SDN Duri Pulo 1-10 (10 schools) and SD Kasih Bunda facilitated by Prof. I Gede Raka.  The program was ended with  Innovation Festival in 2011.
2012-2019 : Sumba Project. A series of Transformational Leadership training, Joyful Learning in Math Education, Creative Science trainings for more than 1500 teachers, principals, supervisors, lecturers in East Sumba, East Nusa Tenggara. We had  a well-managed collaboration with Masyarakat Pendidikan Sejati, Kelas Lentera Kuark, SEAMEO Qitep in Mathematics, Wira Wacana University and East Sumba Education Office. Currently we have more than 50 local trainers of Transformational Leadership and Creative Science programs who have worked with local Education Office to conduct related trainings independently in order for the programs to be sustainable in the respected area. Additionally, we also conducted  Innovation Festivals and book donation programs in which we collected more than 10,000 books for our fostered schools.
2018-present :  Guruku Maju – Dieng Project. We were honored to be granted Rp 2,1 Bio by Yayasan Lari Nusantara/Nusantarun Chapter 5 in 2017.  The funding is used to conduct a teacher training program in 2 sub-districts in Dieng plateau namely Kejajar,Wonosobo and Batur, Banjarnegara, Central Java. We started the program with Transformational Leadership training for 495 participants and then continued with Science and Math trainings for approximately 300 teachers and principals. Regarding the pandemic, we are now preparing some online programs for our teachers and principals in Dieng as our efforts to make our programs sustainable.
2020 –  : Lombok Project.  We are pleased to start our new program in North Lombok, West Nusa Tenggara, working closely with its Education office and STKIP Hamzar. In 2018, several huge earthquakes, centered in North Lombok, hit the island and caused hundreds of lives lost and greatly destroyed thousands of schools, public buildings, etc. We would like to motivate the teachers and at the same time equip them with the competences needed.  We plan to reach 1500 elementary teachers and principals in this program.  We started the first 2 batches of Transformational Leadership trainings in January and then 2 other batches in March.  After Transformational Leadership program, we will then proceed with math and science programs focusing on Teacher Working Groups ( KKG) in 5 sub-districts.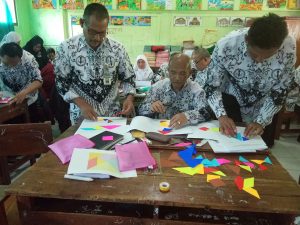 Other programs :
2009 : We provided funding for 1000 students from all over Indonesia to participate in a national science Olympic, OSK.
2011 : Science film festival attended by 600 students in Gowa, South Sulawesi.
2012 : National education seminar with Dr. Rolande Hofman from University of Groningen, Netherlands as the main speaker.
2013 : Education seminar on child psychology with Dra. Ike Anggraini from University of Indonesia.